Regular price
Sale price
$99.99
Unit price
per
Sale
Sold out
Patented, soft headphones embedded in plush memory foam. Connect to your phone or tablet with the included cable or opt in for available Bluetooth.
(2nd generation, launched September 2023)
What Is Included?

1 Soli pillow
1 instructions manual

Available accessories (sold separately):

Soli Bluetooth Audio Module
Soli Pillow Removable/Washable Covers (in grey or charcoal)
Soli Loop
Lightning to 3.5 mm Headphone Jack Adapter
USB-C to 3.5 mm Headphone Jack Adapter
Materials

Pillow: premium memory foam

Headphones: FDA-grade silicone

Cover: 100% polyester
Care Instructions

Spot clean cover with soap and water, if needed. Do not submerge the pillow in water.

Please note: the Soli pillow cover is not removable - do not attempt to remove or wash it. Custom removable, washable covers are available (sold separately).
Share
View full details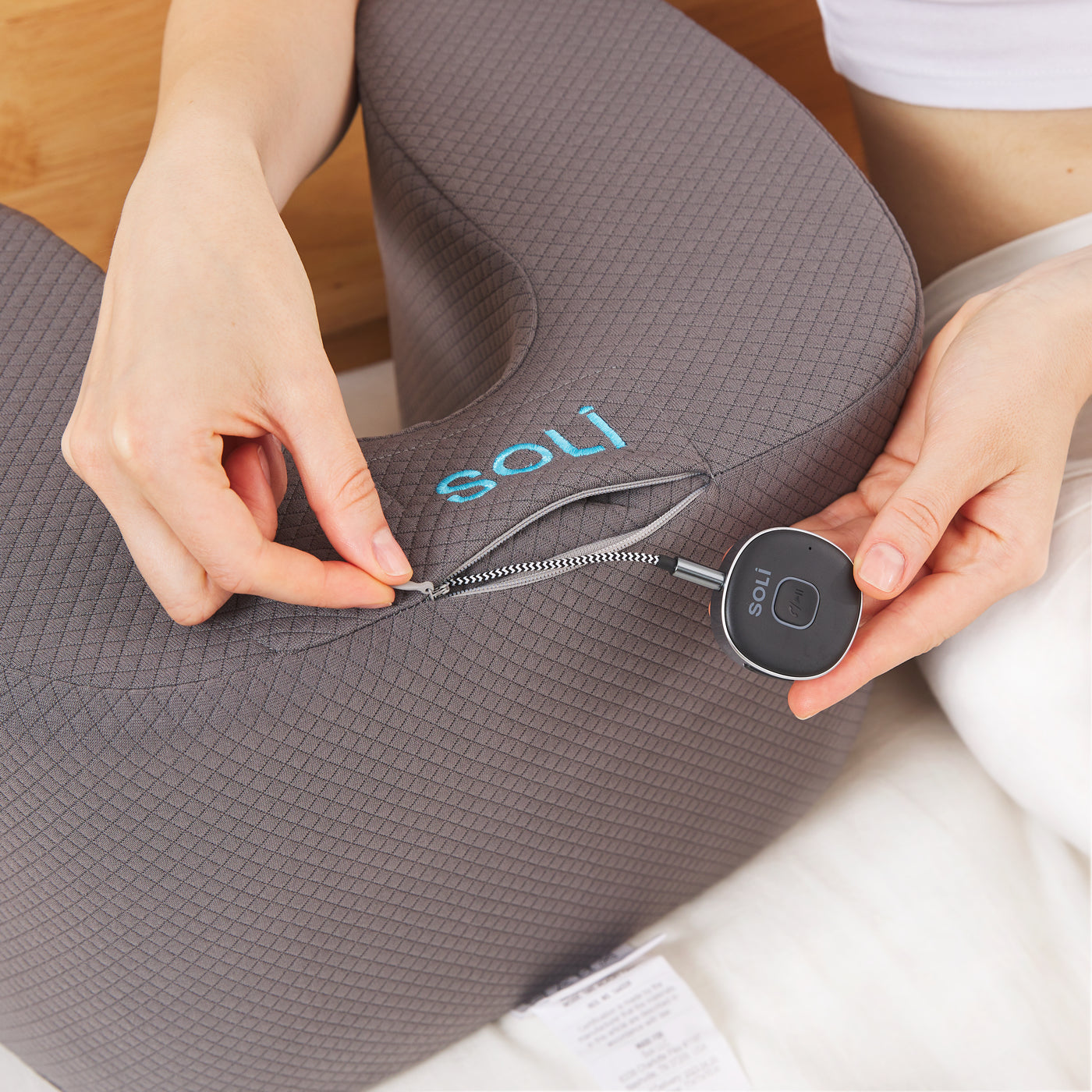 Why you'll love the Soli pillow?
Enjoy music in total comfort
The unique soft headphones and plush memory foam of the Soli pillow offer unparalleled comfort in any position. The comfort superiority of the Soli pillow over conventional plastic headphones and earbuds is particularly apparent during side-sleeping. Your head will blissfully sink into the comfortable pillow and the soft headphones will gently seal your ears but you will never feel a hard end-point. Incredible!
Block out annoying sounds
The Soli pillow blocks unwanted sounds that keep you alert and awake (snoring partner, construction noise, loud neighbor, etc) by two independent and complementary mechanisms - passive noise attenuation and sound masking. The latter is critically important because no existing material is capable of completely blocking unwanted sounds from reaching your ears.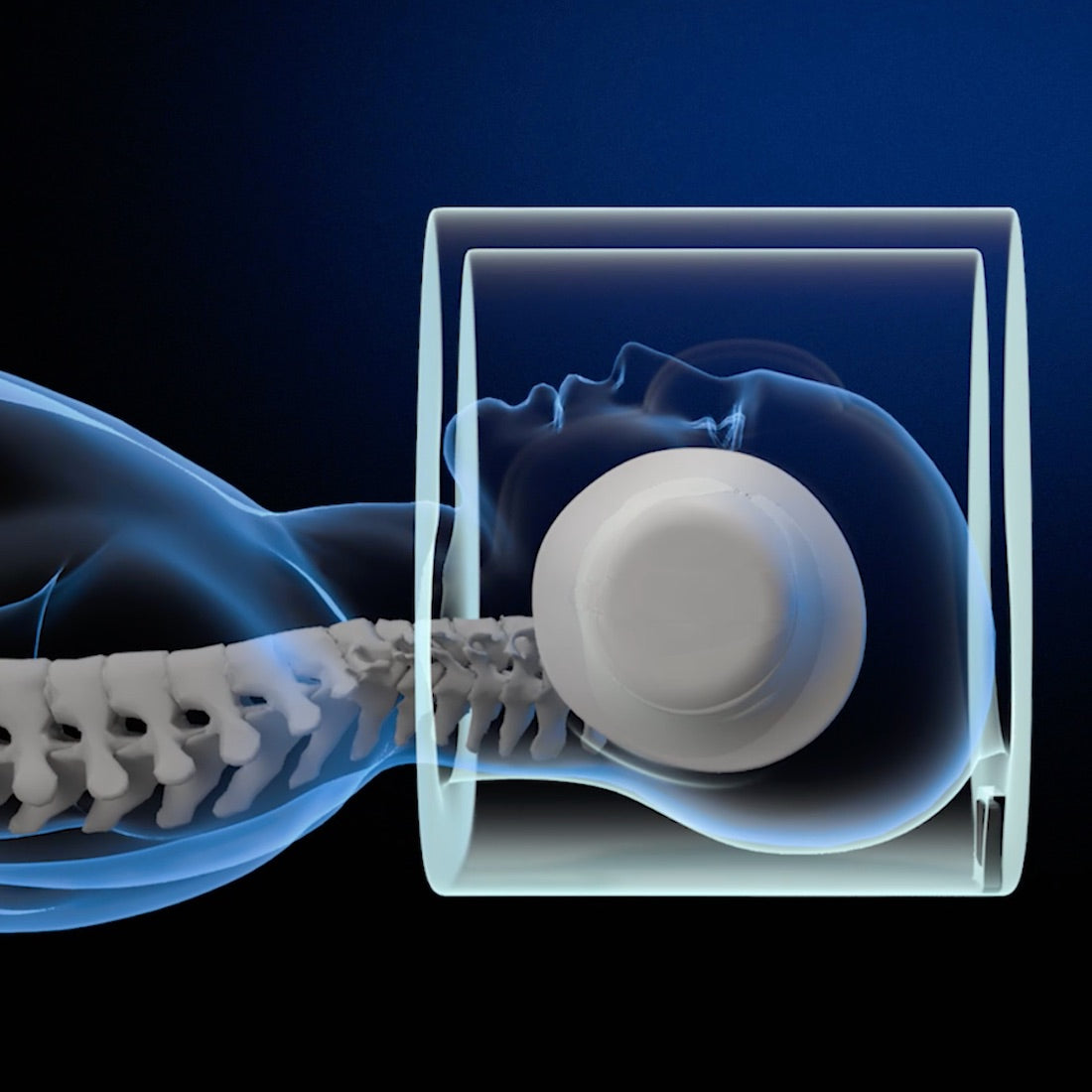 Did we mention incredibly comfortable?
The unique, patented shape of the Soli pillow is sculpted around the human head and neck to provide optimal head and neck support in any sleeping position, back or side. So, no matter how you like to relax or sleep, the Soli pillow is here to delight you with awesome sound and incredible comfort. Enjoy!
Support American Ingenuity. Choose Soli.
A patented Soli original
We created the Soli pillow from scratch in Nashville, Tennessee. It is the culmination of 3 years of research and development - designing, prototyping, iterating, and manufacturing. A shining example of American ingenuity, the Soli pillow is unlike anything you've seen or experienced before. It is the first and only product of its kind with utility and design patents granted in the United States and abroad. We're incredibly proud of our creation and we hope that you'll enjoy it as much as we do!
Let customers speak for us
Tech specs
Speakers: 32Ω, 30 mm drivers
Frequency response: 20 -20,000 Hz
Dynamic range: 121.6 dB at 1kHz
Noise attenuation: passive, up to 17.5 dB
Pillow: polyurethane memory foam
Embedded headphones: silicone
Cable: premium-quality, woven with 3.5mm stereo plug
Cover: 100% polyester fabric
Pillow dimensions: 11.8 x 11.8 x 9.5 inches (30 x 30 x 24 cm)
Pillow weight: 2.4 lbs (1.1 kg)
Our goal is to provide you with the best shopping experience ever!
Helps drown out my partner's snoring!
I love this pillow. It drowns out outside noise very well. I wish it was 100% able to drown out snoring, but that might not be realistic. It is also a little less lofty than I'd prefer, so I have to use a very thin pillow underneath it to avoid neck pain. Overall, I am falling asleep more quickly and staying asleep much more consistently!
Amazing
Super comfy and great sound. Replaced my bulky bose headphones
Great Sleep!
I've slept with earphones, headbands, masks…. you name it! My Soli pillow is so much better than them all. I love feeling cocooned and being able to hear my podcasts so well. The process from ordering to opening the package was completely hassle free and really fast. I've already recommended Soli to several people!
LOVE LOVE LOVE!
I absolutely love my Soli pillow. It has saved my marriage! 😀
The pillow is very comfortable and the Bluetooth is amazing. I just put on some "white noise" and I don't hear hubby's snoring! I'm finally getting a good night's sleep. Thank you Soli!!
P.S. Your customer service is amazing!
Overall works great
Pillow has some very tiny issues with form but if you put some extra pillow under - absolutely excellent. Though all in all great pillow and works excellent if you live in building with noises. I'm glad I bought this pillow. Best 100$ spent ahah